Parish Groups
The Legion of Mary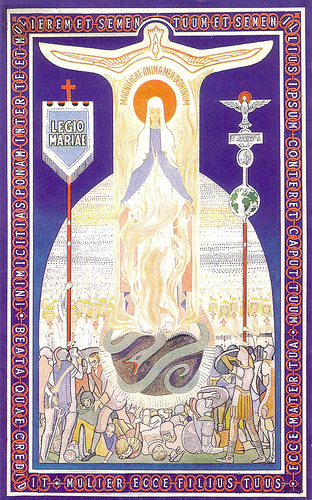 The Legion of Mary was founded in Dublin in 1921 by Frank Duff who became a lay auditor at the Second Vatican Council. It is a lay catholic organisation whose members are giving service to the Church on a voluntary basis in almost every country. The unit of the Legion of Mary is called a praesidium, which holds a weekly meeting, where prayer is intermingled with reports and discussion.
The Works of the Legion
The Legion sees as its priority the spiritual and social welfare of each individual. The members participate in the life of the parish through visitation of families, the sick, both in their homes and in hospitals.
Auxiliary Membership is open to Priests, Religious and lay people who wish to associate themselves with the Legion by undertaking a service of prayer in its name. Auxiliaries can become active members by attending the weekly meetings and engaging in the active work.
The Guernsey Presidium meets every Saturday at 11:00am in St Joseph's Parish Room. Please come and visit us as new members are always welcome.
Pope Benedict XVI said, "The liturgy calls us all to God's service, for God and mankind. In this service we do not wish to stand out but to stand humbly before God and let His light shine through us."
President: Connie Morris
For further information please contract the below –
Viv Thomson – Secretary – Tel: 254969 / E-Mail: vivthomson@cwgsy.net 
Maud Blin – Active Member – Tel: 729445
Parish Office during office hours – Tel: 720196
Visit www.legion-of-mary.ie/
Additionally please 'like' our Facebook page – www.facebook.com/LegionOfMaryGsy.