Other Places
St Apolline's Chapel
St Apolline's Chapel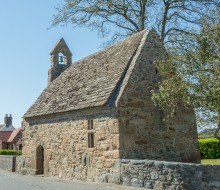 St Apolline's dates from the 1300's. The restoration and re-dedication of St Apolline's in the 1970's was an important ecumenical event. Mass is said there every year, in February, to mark the Saint's Feast Day and two of the currently appointed "Guardians of St Apolline" are indeed St Joseph's parishioners.
However, people may not be aware that St Saviour's Church has for several years organised a weekly service at St Apolline's, at 10.00am, on Thursdays. Catholics would be very welcome at these weekly services thus reinforcing the intention of its re-dedication as a "Chapel of Prayer for Unity among Christians".
St Apolline's is small, but beautifully formed! The chapel is surprisingly comfortable, well illuminated and warm and can accommodate about 16 worshipers. By continuing the tradition of Christian prayer in this ancient building, Catholics  would find a visit, particularly for a service, very rewarding.