Dear People of God,
Yesterday the States of Guernsey decided to bring the debate and decision on the Policy Letter of the Committee For Health and Social Care on "Modernisation of the Abortion (Guernsey) Law" 2nd March 2020, forward to the June States meeting on 17th June. We believe this is an entirely inappropriate time to be considering such a sensitive and morally important issue, in the midst of the current Covid-19 pandemic and with such a truncated timescale for public debate and consideration.
Many of us within the church community believe there are few if any circumstances (outside of a risk to the mother's own life or fatal fetal abnormality), under which an unborn child's should be ended. The unborn child is "fearfully and wonderfully made" and to be valued from conception. We also believe that both the lives of the unborn child and of the mother matter. This requires a carefully balanced and considered Policy Letter in this subject area.
However what is being presented to the States, gives no recognition of the value and life of the unborn child, or of the supportive care services required to sustain a difficult pregnancy. Whilst the Letter claims to be a "modernisation" in line with the existing UK law, the proposals introduce a more permissive regime than that in place in England, with powers to significantly restrict conscientious objection. Please act on the following:
1. Pray
Please use the prayer card below. Further hard copies can be obtained from Tim Berry timanddorcas@gmail.com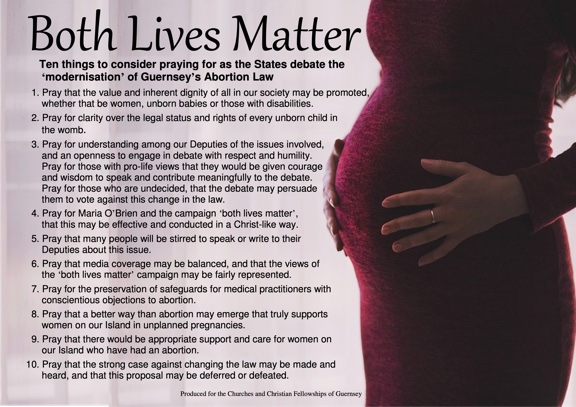 2. Act
Make a submission to the Health and Social Care Committee's consultation, this can be made by sending your submission to  healthandsocialcare@gov.gg . This must be made by Friday 12th June. 
Inform others in your circle of contacts and friends to make them aware of the proposals.
Please do join the active campaign by the local group "Both Lives Matter Guernsey" by emailing BothLivesMatterGuernsey@gmail.com .
Look up (and "like" if you agree with) the Facebook page set up by Both Lives Matter Guernsey https://www.facebook.com/bothlivesmatterguernsey/

3. Represent
Make a representation to States Deputies with you views. This can be by calling a deputy/deputies, you know, but please also send your views to all deputies at www.gov.gg/yourdeputies . These must arrive before Wednesday 17th June.
The full Policy Letter can be found on the States web site here www.gov.gg/abortionlaw .
We have carried some detailed research and consideration on the proposals and identified key areas of concern for prayer and to raise with States deputies. Please see the attached document "Top Twelve Concerns surrounding the "modernisation" of Guernsey's abortion Law."
Top Twelve Concerns surrounding the "modernisation" of Guernsey's abortion Law.
We would be grateful for your feedback on how we can support you further on this issue over the coming couple of weeks. Thank you for your support, prayers and action for those without a voice, but who are very much on our Heavenly Father's heart. God bless, 
John P Ogier. Pastor Spurgeon Baptist Church.
Father Bruce Barnes. Catholic Church.